Does a free Google My Business post scheduler exist?
Does a free Google My Business post scheduler exist?
Yes, absolutely. Gimby.io lets you schedule, automate, batch import and set recurring Google My Business posts for free.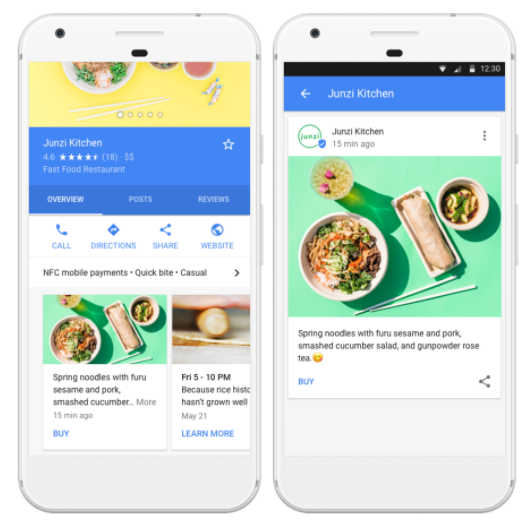 Here's a video showing you how to schedule and automate GMB posts for Free with Gimby.io:
What is a Google My Business Post?
Google Posts were created by the American giant in 2017. Initially invented under the name of Candidate Posts, they first allowed political candidates to share publications that could be more easily consulted as soon as they proved to be relevant to political searches associated with the topic.
Very quickly, the system was integrated into the Google My Business service and served the referencing of businesses.
Now, any company can publish an article via its GMB space. This practice allows you to increase the visibility of your brand among Google Search and Maps results. It takes the form of articles like those you may have already read on social networks or a blog you follow.
The Google post is a so-called topical publication, which means that its consultation value is maximum as soon as it is online but its audience potential decreases as time goes by, unlike your GMB showcase.
The same principle applies to a message shared on Facebook: it will only be available on your news feed for a short period of time and will disappear to make room for new, more recent messages.
Offered for free, the Google Post is very easy to use as we will see. It allows you to quickly attract more and more new prospects as well as to keep your customer base loyal thanks to the regular sharing of relevant information (announcement of discounts, promotions, sales, changes in offers or specific events).
How to improve your GMB posts?
As said before, you should not post just anything. Each post created must have a specific objective such as getting people to call you, generating traffic for your site or getting customers.
Google My Business posts will indirectly help your SEO google maps or local with the new traffic that will engage on your Google My business page.
That's why it's important to spend time and structure your posts well.
Here are the elements to optimize to have a quality post:
The photo must be engaging and optimized for Google posts. It must be in the right format as mentioned above and of good quality. You should not use photos from stock images sites that are often frowned upon by Google. Choose a photo that attracts attention in the search results.
The text must be well written and attractive. You must write a text that engages your readers especially the first sentence to insist users to contact you or go to your page.
Use emojis 🙌 in your texts to highlight your most important words. Be careful, not to abuse it otherwise your text will be unreadable.
Always put a CTA, to convert your readers into future customers. The CTA that works best is the offer CTA because people like to see the promotions of an establishment.
If you feel like scheduling your Google My Business posts is a good idea for you, feel free to subscribe to Gimby here.